Fresh attempt to recover tramper's body

NZ Newswire
25/08/2016
The man's female travelling companion spent almost a month in a Department of Conservation warden's hut after his death, before the pair were reported missing on Wednesday and she was rescued.
Attempts to recover the man's body on Thursday were thwarted by the weather and the nature of the terrain.
Conditions permitting, the recovery team will make another bid on Friday morning.
The pair, aged in their late 20s and early 30s, set off from Glenorchy on July 26.
The man's fall came two days later and the woman then spent three nights in the open before reaching the Lake Mackenzie hut 2km away
.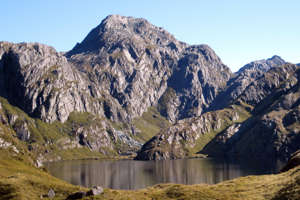 © AAP Routeburn Track in Fiordland National Park.
Both police and DOC staff say the woman did the right thing to stay put in the intervening period as she waited for help to arrive.
"Her physical capabilities and the injuries that she had meant she just couldn't' walk," Otago Lakes-Central area commander Inspector Olaf Jensen said.
"Given her experience and the avalanche risk, she decided it was best for her safety to remain in the hut and that was the correct decision to make."
Police have interviewed the woman, who Mr Jensen said been through "a traumatic experience".
In terms of physical injuries, she had suffered minor frostbite and possibly hypothermia, and was taken to hospital, but required only an examination.
DOC's Wakatipu operations manager Geoff Owen said warden's huts were closed for the winter and the woman did the right thing to force her way in.
He said there would have been heating in the hut and there might have been food left behind by wardens.
"Given the time she was out there, I have to say her last decision was a very good one to just hunker down and wait for someone to come along."