Frew calm ahead of Magic clash

NZ Newswire
15/07/2016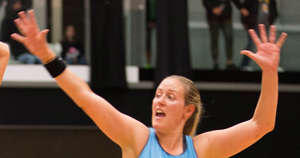 © Mead Norton/Getty Images Wendy Frew of the Southern Steel Not even the recent memory of two 10-goal wins over the Magic can tempt Southern Steel captain Wendy Frew into over-confidence ahead of Sunday's key trans-Tasman netball clash in Invercargill.
The Steel go into the New Zealand conference final undefeated, with draws against Mainland Tactix and NSW Swifts as their two closest matches.
In contrast, the Magic lost seven times in regular season play, five of those defeats coming in the first six weeks of competition.
Frew refuses to write the Magic off, pointing to their track record in making all nine ANZ Championship finals series since the league began in 2008.
"They've been in the finals every year, and they've got a lot of experienced players so they know how to perform on the big stage and when it really counts," she told NZ Newswire.
"I think they're getting better and better each week - throughout the whole court, they've improved in a lot of small areas.
"We've had two convincing wins against them, but when you play the Magic it doesn't actually feel like that. We were grinding right through the whole game both times."
The Steel earned a week off after their last-round 59-59 draw with the Swifts, while the Magic had to crank up the intensity for their elimination final against Northern Mystics last week.
Shooter Jo Harten says their 63-47 win couldn't have come at a better time.
"It was one of our best wins of the season, and against a team we've struggled against in the past," she said.
"We wanted to do it for each other and we had confidence in each other. We were letting the ball go on attack and trying to win it back on defence - it was a real team effort, and to be able to put the whole picture together was really pleasing."
The 27-year-old English international says the Magic will have to deliver another 60-minute performance, eradicate errors and focus on a seven-strong through-court defence if they want to upset the Steel at home.
"But we are a winning side - that's how we see ourselves," she said.
"It's pleasing to be in this position, because we hadn't thought about it. We just wanted to win one game, and now we're in the conference final."