Fury abdication opens WBO path for Parker

NZ Newswire
13/10/2016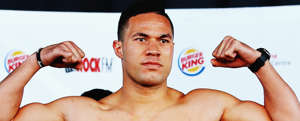 © Hannah Peters/Getty Images Joseph Parker Kiwi boxer Joseph Parker's path to a WBO heavyweight title bout has been cleared, with incumbent champion Tyson Fury vacating his crown.
Fury, 28, abdicated both his WBO and WBA boxing titles on Thursday (NZT) to fully focus on his medical treatment and recovery from drug addiction.
The British boxer reported positive to cocaine use and told Rolling Stone magazine this month he'd been taking drugs and alcohol to combat depression.
He recently withdrew from an October 29 rematch with Ukrainian veteran Wladimir Klitschko for the second time after being declared medically unfit to fight.
The Gypsy King has not fought since his earlier title victory against Klitschko in November last year.
"I'm unable to defend at this time and I have taken the hard and emotional decision to now officially vacate my treasured world titles," Fury said.
"I feel it's only fair and right, and for the good of boxing, to keep the titles active and allow other contenders to fight for the vacant belts."
Fury's decision spares him the potential embarrassment of having his titles stripped when the British Boxing Board of Control met this week.
The board were set to discuss removing Fury's license, which would have seen him automatically stripped of his titles.
For Parker and his camp, the abdication makes his path to the top of the boxing world considerably clearer.
The 24-year-old will now fight for the WBO title against either Klitschko or Mexican-American Andy Ruiz Jr on home soil in the Kiwi summer.
However promoters for Parker fully expect the fight to be against Ruiz, with Klitschko negotiating a November bout against IBF champion Anthony Joshua.
The south Aucklander would then potentially take on the winner of that bout in a title unification fight in 2017.
Promoter Dean Lonergan said he'd be happy for Fury to be declared a "champion in recess", which would give him the chance to earn back his belt when full healed.
"I think Fury is looking to gain a little bit of favour and save the WBO a bit of drama by relinquishing the belts," Lonergan said.
Parker had formerly sparred with the 27-year-old Ruiz in 2013 and told reporters last week he couldn't eat for three days after suffering one of his punches.
His camp were working to seal a deal on the fight with Ruiz's veteran promoter Bob Arum, which is thought to be close.
The fight for the WBO belt could be seen by up to 100 million people worldwide and would be the first title bout on Kiwi soil.
"I have my fingers crossed my promoters can stitch up a deal to bring the WBO world title to New Zealand," Parker said.
"It's getting real now."