Future first lady Melania Trump emerges from the shadows

The Guardian
13/11/2016
borrowed in part
from the woman she will now follow into the White House, Michelle Obama.
Trump was reportedly mortified by the error, which brought forth Broadway star Laura Benanti's first impersonation on late-night TV. For much of the campaigning that followed, Melania preferred to stay in the marbled confines of Trump Tower, rather than canvass the country her husband is now preparing to lead.
Less than a week before election day, she emerged to speak in Berwyn, in Chester County, Pennsylvania.
"I am a full-time mother to our son Barron, an incredible boy," she said. "As his father travels around the country running for president, I am with our son.
"We talk a little bit about politics and a lot about life, homework and sports. Barron has many privileges and advantages. We know how fortunate we are."
In light of the release in early October of a 2005 Access Hollywood tape in which he was heard to brag about groping women, and numerous subsequent allegations of sexual misconduct and assault, pre-election polling gave Trump dismal approval ratings with women.
Melania Trump's speech in Berwyn was billed as an attempt to soften her husband's coarse image with white suburban women. On Tuesday, he lost Chester County. But he won Pennsylvania, a state that had voted Democratic since 1992. Nationwide, a majority of white women voted for him.
Who is Melania Trump?
Melania Trump was born to a textile worker and a car spares trader in Sevnica, Slovenia, on 26 April 1970. She has described an idyllic childhood, surrounded by forests and rivers. More weighty details are scarce: in September, many residents of Sevnica told the Guardian they remembered nothing of the young Melania.
"In the socialist days we were all the same," said one woman, of around the same age as Trump.
In her speech in Berwyn, Melania recalled waking one morning as a 10-year-old girl to learn that Ronald Reagan – whose slogan "Let's Make America Great Again" Trump adapted for his own campaign – had won the American presidency.
"President Reagan's Morning in America was not just something in the United States," she said. "It began to feel like morning around the world, even in my small country. It was a true inspiration to me."
She became a model, and her career whisked her from Ljubljana to Milan and Paris and, in 1996, New York.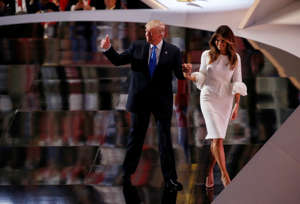 Mrs. Trump

"Fashion is a business of glamour but it is also hard work," she said in the Berwyn speech. "There are ups and downs, high highs and ridicule and rejection too. I loved my work and as a young entrepreneur I wanted to follow my dreams to a place where freedom and opportunity were in abundance. So of course I came here."
Two years later, she met Trump at a party at the Kit Kat Club in Manhattan. In her telling she initially rebuffed the businessman, 24 years her elder, because he had arrived with another woman and had recently separated from his second wife, Marla Maples.
Trump persisted. They broke up briefly in 2000, around the time Trump considered running for president as a candidate for the Reform party. Asked at the time what kind of first lady she would be, Melania replied: "I would be very traditional – like Betty Ford or Jackie Kennedy. I would support him."
They married in 2005, at his own Mar-a-Lago Club resort in Palm Beach, Florida, inviting 450 guests including Bill and Hillary Clinton and former New York mayor Rudy Giuliani, now a close Trump surrogate and adviser. Barron, who is 10, is their only child. 
In her Pennsylvania speech, Melania described the grueling 10-year process to obtain her US citizenship, which she called the "greatest privilege in the world".
"I'm an immigrant, and let me tell you that nobody values the freedom and opportunity of America more than me," she said.
Her husband launched his campaign with a call to arms against illegal immigration, and has repeatedly called for the deportation of people who violate the terms of their immigration status.
A week before the election, the Associated Press reported that Melania Trump was paid for 10 modeling jobs in the US, worth $20,056, which were fulfilled in the seven weeks before she obtained legal permission to work in the country. Trump's lawyer flatly rejected the report.
In September, lawyers for Melania sued the Daily Mail for $150m over similar reports about her past.
'Spill the beans'
As stories about her immigration status illustrated, though she attempted to remain behind the scenes, Melania has failed to escape the spotlight in one of the most caustic campaigns in history.
In August, after nude photographs resurfaced online, her husband wrongly accused his primary opponent Ted Cruz of involvement in the leak, and in retaliation threatened to "spill the beans" on Cruz's own wife.
Melania Trump was also forced to release a statement that said she had accepted her husband's apology after the release of the 2005 Access Hollywood tape, which was recorded just after their marriage.
In an interview with CNN, Melania Trump called subsequent allegations against her husband "lies", part of a coordinated campaign to smear him. She also dismissed his language on the tape as "boy talk", and said he had been "led on" by the Access Hollywood host, Billy Bush.
An opinion poll taken in August, after the Republican convention, found that Melania Trump was much less popular than Michelle Obama or her counterpart in the 2016 race, Bill Clinton: 38% of Americans viewed her favorably and 42% viewed her unfavorably while 20% said they had either never heard of her or had no opinion.
The Gallup poll found that Trump's popularity rose 10 points after her primetime convention address, but so did her unfavorables once controversy over her speech flared up.
In her Berwyn speech, without a hint of irony, Melania Trump said that as first lady she would work to combat online bullying and harassment. Throughout the campaign, her husband used Twitter to antagonize, attack and harass political opponents, critics, women, minorities and anyone at all who provoked him. Melania Trump: 'Donald knows how to shake things up'
Regardless, Melania Trump said: "Our culture has gotten too mean and too rough, especially to children and teenagers. It is absolutely unacceptable when it is done by someone with no name hiding on the internet."
In October, she told CNN's Anderson Cooper she was not shy in giving her husband further advice, such as to "give up the tweeting".
In Pennsylvania, in closing, she said: "I will be there to support my husband's efforts to help all Americans when he is president. Donald Trump will make America fair. He will make America safe.
"He will make America prosperous. He will make America proud. And, yes, this man I know so well, Donald Trump, with your help and God's grace, will make America great again."