George W. Bush and Michelle Obama share hug on stage

The Hill
25/09/2016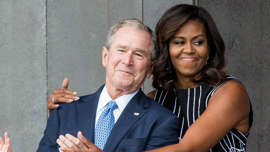 Former President George W. Bush and first lady Michelle Obama shared a hug on stage during the opening ceremony of the African American History Museum on Saturday.
Both President Obama and former President Bush gave speeches as the event, stressing the importance of American history and unity.
"A great nation does not hide its history," Bush said. "It faces its flaws, and corrects them."
Obama spoke about the rich and diverse American black history, stating that it is an integral part of the entire American story.
"We are America," he said. "And thats what this museum explains, the fact that our stories that our stories have shaped every corner of our culture."
The two presidents also shared their own moment when Bush asked Obama for help to take a selfie.