Giant clown blocks major Auckland road

NZ Newswire
16/05/2017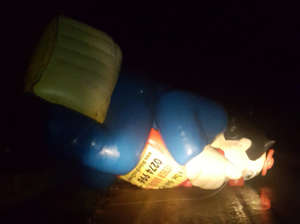 A fire crew has spent the morning wrestling a giant inflatable clown off a major road south of Auckland.
The Fire Service was alerted to the eight-metre tall circus advertising balloon lying across Mill Road, near Pukekohe, by a passing driver in the early hours on Wednesday.
"When we got there we obviously found the clown and then had to go around figuring out how to deflate it," Pukekohe station officer Darcy Hart told NZ Newswire.
"In 17 years as a volunteer firefighter in Pukekohe, it was the first time ever, or really the whole crew, have ever been to an inflatable eight-metre clown."
Once the crew managed to find the balloon's power source, they deflated it before wrestling it back over the fence it was blown.
The owners hadn't been woken up, but would likely figure out what had happened from media reports, he said.
"It's a good job to go to compared to a lot of the ones the Fire Service gets called out to."