Google Makes Chromecast Available In Korea, Its First Asian Market

TechCrunch
14/05/2014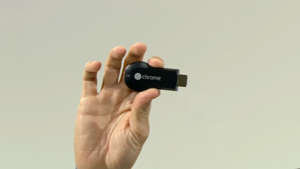 Google's has launched in Asia for the first time–but it's . In a post on its , the company explained that Korea was chosen because of the country's high mobile penetration rate.
"Over 80% of YouTube views in Korea come from mobile devices, compared to the 40% average for the world," Google said in the post. A company spokesman told TechCrunch that YouTube's mobile-to-desktop ratio crossed 50% in Korea in 2011, the first market to do so.
Chromecast's was in March, when it rolled out in 11 new markets in Europe and North America: Canada, Denmark, Finland, France, Germany, Italy, the Netherlands, Norway, Spain, Sweden and the U.K.
The USB dongle plugs into HDTVs so users can stream Google's browser from their smartphone, tablet, or laptop over their Wi-Fi networks to watch YouTube clips and other content. In Korea, the device costs 49,900 won, or about $49, compared to the $35 it fetches in the U.S. Chromecast was also priced at a premium when it launched in the U.K.