Government has no spine: ACT

NZ Newswire
12/05/2016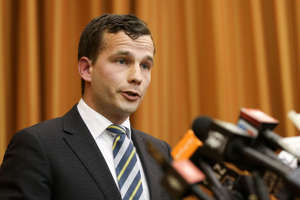 © Hagen Hopkins/Getty Images David Seymour  The government doesn't have the spine to cut taxes, ACT leader David Seymour says.
He's an ally but doesn't agree with Finance Minister Bill English's decision, announced on Thursday, to take tax cuts off the table in next year's budget.
"No tax cuts, no spine," Mr Seymour said.
"I would rather see that tax given back to households and businesses to decide for themselves what best suits their needs."
Spending watchdog the Taxpayers' Union said it was fuming.
"This government's debt problem has been exacerbated by wasteful spending," it said.
"Every year it has spent more than $1.3 billion of taxpayers' money on corporate welfare."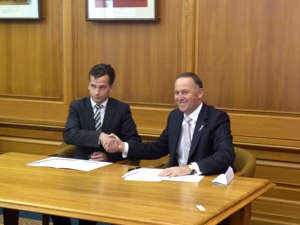 The Greens were the only party that approved.
"Taking tax cuts off the table was the right move," said finance spokeswoman Julie Anne Genter.
"It's good the government has realised tax cuts aren't the kind of medicine our economy needs right now."
Mr English also announced he was cutting spending by $1.2 billion over the next five years to help reach the target of reducing debt to 20 per cent of GDP by 2020.
That upset the Labour Party.
"He plans to cut funding for capital projects now, just as the call for investment grows," said finance spokesman Grant Robertson.
"Despite the Reserve Bank highlighting the need for higher levels of capital expenditure, the government is going to do the exact opposite."