Government soft on Trump: Labour

NZ Newswire
30/01/2017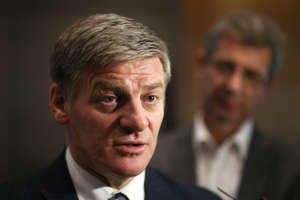 Bill English has stopped short of condemning Donald Trump's travel ban on people from seven predominantly Muslim countries, and Labour says the prime minister is taking a soft line on the US president.
Mr English, and Foreign Minister Murray McCully, on Monday said the 90-day ban and the 120-day suspension of the US refugee programme were causing confusion and concern, and the government would never implement such policies.
"We wouldn't implement a policy like that which discriminates amongst refugees or migrants as to which country they come from - that's not the New Zealand way," Mr English told reporters.
He said it wasn't the government's job to tell Mr Trump how to run his country, while Mr McCully said the bans clearly had "significant teething problems".
Mr English hasn't yet spoken to Mr Trump, who called former prime minister John Key soon after being elected on November 8.
NZ Newswire understands arrangements are being made for a phone conversation between the two but details haven't been nailed down.
Labour leader Andrew Little says Mr English response to the ban on Muslims wasn't strong enough.
"It's taken Bill English two days to step up and say something, and it's been pretty weak," he said.
"We have strong diplomatic relations with the US... we should be able to step up and say `what you are doing is not right'."
Mr Little has described the US policies as bigotry, and the Greens say New Zealand should speak out when "injustice" occurs overseas.
Both parties have reiterated their pledge to double New Zealand's refugee quota, currently set at 750.
Mr Trump's executive orders put a 90-day ban on travel to the US by citizens of Iraq, Syria, Iran, Sudan, Libya, Somalia or Yemen.
Mr McCully says at this stage MFAT hasn't received any requests for consular assistance as a result of the announcements.
"We would encourage all people who require advice regarding travel to the US to contact the US Consulate General in Auckland in the first instance."
Mr Trump has justified his moves by saying they're a necessary steps to stop "radical Islamic terrorists" from coming to the US.
They have provoked widespread protests in the US.