Govt looks at tax cuts from next year

NZ Newswire
13/03/2017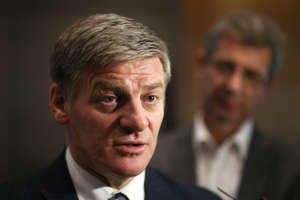 © Hagen Hopkins/Getty Images Bill English The government wants to help low and middle-income families and is working out ways to do that, Prime Minister Bill English says.
He's cautious about the package that will be unveiled in the May budget but says tax cuts are "on the table".
"We want to help low and middle-income families, we've got to work out if we can afford it, and if we can, how we do it," he said at his post-cabinet press conference on Monday.
Mr English earlier said during radio interviews there wasn't going to be "some big sugar shock with tax cuts" and the government had a range of tools it could use.
"The average wage is getting up around $60,000-plus, and the top tax bracket is about $70,000, so (adjusting the brackets) is part of the discussion," he said.
Mr English says there are other pressures on budget surpluses, such as the need to build infrastructure to cope with a growing population.
"Tax cuts are on the table. We will look at these in the context of these other demands," he said.
He won't say how much of a cut low and middle-income families can expect.
Nor will he say how big the surplus will have to be before the government cuts taxes.
"We haven't got any particular figure," he said.
"We're not at that stage."
Mr English confirmed that if there were tax cuts, they would be effective from April next year.
"We would follow the usual cycle."
The taxpayers' union berated Mr English for not bringing in tax cuts on June 1 this year.
"Tax cuts are always tomorrow under National," said spokesman Jordan Williams.
"With healthy government books, higher tax revenues, and tax thresholds not being shifted with inflation since 2010, tax relief in 2017 is both affordable and prudent."