Govt policy set for stocktake: Joyce

NZ Newswire
10/12/2016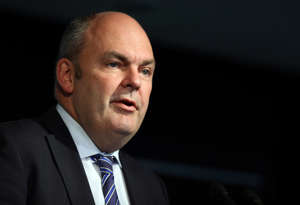 A planned review of government policy decisions will take on a sharper focus in the wake of Prime Minister John Key's resignation.
Mr Key will formally resign on Monday with his deputy Bill English poised to be anointed his successor by the National caucus.
Paula Bennett will be new deputy prime minister and Steven Joyce is set to take over as finance minister.
He says Mr Key's shock decision would mean gearing up for next year's election would be done with a new perspective.
"There will be a freshness of some new policy positions," Mr Joyce told TVNZ's Q&A.
"It is quite an opportunity for a stocktake for us."
Mr Joyce said he had already discussed the scope of the review with Mr English but played down a sweeping shift in direction.
"After eight years we were very conscious of the need to do this anyway.
"We're heading into an election for a fourth term - you have to go through a process of head checking yourself on all your policy positions. Many will stay the same and a few will change," he said.
Mr Joyce refused to go into detail on what policies could be tinkered with but said the goals of paying down debt, investing in public services and investing in infrastructure would remain central.
"One of hallmarks and virtues of this government is that it has been sensible, predictable and pragmatic."
Tax cuts remained a possibility.
"No politician should forget that the money they get to spend comes from hardworking Kiwis."