Govt to focus on trade with Tillerson

NZ Newswire
2/06/2017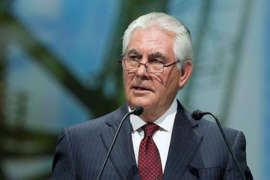 © Christophe Morin/Bloomberg Foreign Minister Gerry Brownlee has been careful not to say anything that might upset US Secretary of State Rex Tillerson ahead of his first visit to New Zealand next week.
Mr Brownlee and Prime Minister Bill English are due to meet with Mr Tillerson on Tuesday when he is scheduled to spend just a few hours in Wellington.
Climate activists have called for discussions to focus on President Donald Trump's withdrawal of the US from the Paris Climate Agreement to dominate discussions and are planning protests to show Mr Tillerson their opposition to that move.
But Mr Brownlee says while it's likely to come up the meetings are likely to focus on trade.
"His domestic politics are one thing and for him to work through, for the US to work through," he told TV3's The Nation.
"We will of course be interested in negotiating any changes that they want that might bring them back to the table but in the end you're going to see, I think, a lot of businesses in the US stick with the plans they had to reduce their emissions profile, so it's not all bad."
He's also not planning on discussing political stability, or lack thereof, within the US.
Mr Brownlee said Mr Trump made promises to voters "and he's sticking to that".
Mr Tillerson is expected to be updated on progress of the Trans Pacific Partnership without the US while terrorism and Antarctica will also be on the agenda.