Green denies groin kick was deliberate

NZ Newswire
23/05/2016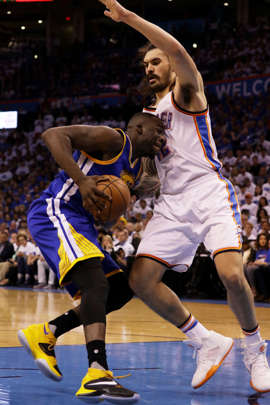 © Ronald Martinez/Getty Images Draymond Green #23 of the Golden State Warriors drives against Steven Adams #12 of the Oklahoma City Thunder Golden State Warriors forward Draymond Green has denied he deliberately kicked Oklahoma City's Steven Adams in the groin during the Thunder's 133-105 game three win in the NBA's Western Conference finals series.
Adams was forced from the court briefly midway through the second quarter after Green floored him with a kick to the groin.
The Warriors forward was issued with a flagrant foul, his second of the series to date, and Adams showed impressive sang froid to return and nail both free throws.
Green afterwards told reporters that he hadn't realised he'd hit Adams.
"I don't think I'll get suspended. I followed through on a shot - I'm not trying to kick somebody in the men's section," he said.
"I'm sure he wants to have kids one day. I'm not trying to end that on the basketball court."
It was the second time Green's knee had found Adams's groin in the best-of-seven play-off series, after a similar incident in game two four days ago, won 118-91 by the Warriors.
Adams afterwards appeared sceptical of Green's claims.
"It happened before, mate," Adams said. "He's pretty accurate."
Teammate Russell Westbrook also appeared disinclined to believe Green's claims of accidental contact.
"Honestly I think it's intentional. That's two times in the last two games."
The NBA will now be expected to examine the play and determine whether it merits a ban for the All-Star Green.
The timing of the incident is ominous for the Warriors, coming on the same day the league suspended Cleveland guard Dahntay Jones for one game after he struck a Toronto player in their Eastern Conference finals showdown on Saturday.
Warriors coach Steve Kerr also defended Green.
"Honestly, stuff like that happens all the time," Kerr said. "There's inadvertent contact on all plays. It's just part of the game."