Greenback strength outshines kiwi's growth

NZ Newswire
22/12/2016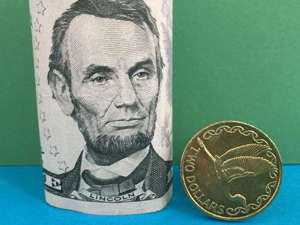 © 3748910/Shutterstock The kiwi dollar fell to 69.07 US cents as at 5pm in Wellington from 69.34 cents The New Zealand dollar fell as a stronger US dollar continues to dominate markets, overshadowing a better-than-expected gross domestic product number.
The kiwi dollar fell to 69.07 US cents as at 5pm in Wellington from 69.34 cents on Wednesday.
Gross domestic product grew 1.1 per cent in the three months ended Sept. 30, accelerating from a revised 0.7 per cent pace in the June quarter, Statistics New Zealand said in a statement.
The economy grew 3.5 per cent from the same period a year earlier. Still, that didn't deter investor interest in the greenback, which has been stoked by rising yields on US Treasuries after the US Federal Reserve signalled steeper hikes are on the cards for 2017.
"There's nothing to tell you to sell the New Zealand economy" after a raft of positive New Zealand data over the past few weeks including strong consumer and business confidence, a solid recovery in dairy prices and today's GDP number, said ANZ chief economist Cameron Bagrie.
"But, the US dollar is the only game in town right now," he said.
Bagrie noted the US dollar moved significantly over recent sessions after the US Federal Reserve lifted interest rates last week and signalled more to come and "could be primed for a bit of profit taking."
Strong domestic data was helping keep the kiwi relatively firm on the crosses, he said. The trade-weighted index fell to 77 from 77.29 on Wednesday.
The local currency traded at 95.25 Australian cents from 95.55 cents late Wednesday. It fell to 4.7973 yuan from 4.8177 yuan and declined to 81.11 yen from 81.58 yen. It fell to 66.12 euro cents from 66.59 cents and traded at 55.82 British pence versus 56 pence.
New Zealand's two-year swap rate rose four basis points to 2.45 per cent, and 10-year swaps were unchanged at 3.54 per cent.