Greenpeace protesters interrupt oil vessel

NZ Newswire
10/04/2017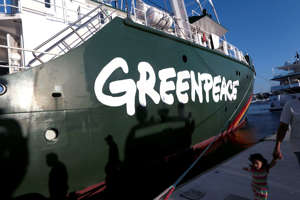 Protesters from Greenpeace have swum into the path of an offshore oil exploration vessel forcing it to divert off course and delay operations.
The world's largest seismic survey ship, the Amazon Warrior, was 50 nautical miles off the Wairarapa coast when the activists decided to jump ship off its newest boat, Taitu, on Monday.
The exploration is being carried out for Arctic driller Statoil and Chevron, a US oil company part-owned by President Donald Trump, but has halted due to the interruption.
Greenpeace Executive Director, Russel Norman, is one of the swimmers, and says the right to peaceful protest is essential to a healthy democracy and New Zealand has a long and proud tradition of protest at sea.
"Climate change threatens our homes, health and families. Despite knowing this, our government is actively subsidising oil companies to look for new oil, putting profits above people's lives - it has become necessary for people to take action."
Greenpeace has been tailing the Amazon Warrior, nicknamed 'The Beast', for the past two days onboard Taitu, which was crowdfunded in just one week.
Chevron and Statoil have permission to drill up to three kilometres deep if oil is found.
Last week, the Amazon Warrior was said to have "cut and run", from a confronting waka.
A Ngati Kahungunu-owned waka, Te Matau a Maui, reached the site where the Amazon Warrior was, but waka spokesman, Raihania Tipoki, said it fled.