Greens attitude to Trump criticised

NZ Newswire
10/11/2016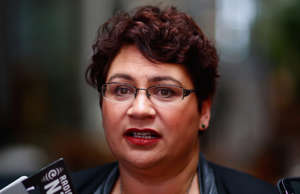 © Phil Walter/Getty Images The government and Labour have criticised the Greens for rejecting parliament's congratulations to Donald Trump on winning the US presidency. The Green Party's outspoken rejection of parliament's congratulations to United States president-elect Donald Trump has been criticised by both the government and their ally the Labour Party.
The Greens broke ranks with all parties on Thursday when the government introduced the traditional, formal motion congratulating Mr Trump.
"I will not support this motion to support Trump and neither will the Green Party," said co-leader Metiria Turei.
"We vow to fight the climate change denials, the misogyny and the racism represented by Trump."
Senior cabinet minister Paula Bennett says Ms Turei should have kept her mouth shut.
"This is a woman who wants to sit around the cabinet table," she said on Newshub's Paul Henry Show.
"The Greens want to be ministers - well, act like it and that means being a grown up and being a leader and representing your country well.
"I think it was actually offensive to the people of America, who have in a true democracy chosen a leader."
Labour's deputy leader Annette King described Ms Turei's outburst as "unwise politics".
We have to look to the future, and we deal with all sorts of countries," she said.
"We have to look beyond the person to what we hope is going to be a continuation of good democratic practices in the United States."
The motion was approved by 106 votes to 14.