Grenfell Tower fire: Investigation findings may not be published for years

The Independent
17/06/2017
It could be years before the London Fire Brigade (LFB) publicly release an investigation report into the Grenfell Tower fire, the force has said.
Angry residents have demanded answers about the disaster amid allegations of safety failings and fears that the death toll could rise to 70 in the coming weeks.
But an LFB spokeswoman told The Guardian: "The report will not be in the public domain until that inquest is complete. There is no timeframe for when the inquest will be, but certainly not in the short term."
As a result, it could be years before the report is released.
Her claim appeared to contradict Communities Secretary SajidJavid, who said that the interim findings of fire officers' investigations will be made available to local councils as they carry out emergency inspections of more than 4,000 tower blocks across the UK.
They could also anger community members who have demanded answers about what caused the blaze, that left at least 30 dead and dozens more injured. At least 70 people remain unaccounted for. 

Protests erupted across London on in the wake of the disaster, with victims and other angry Londoners uniting in outrage at the failings that led to the blaze.
Scores of people forced also their way into North Kensington Town Hall, to deliver a list of demands, including the immediate rehousing of all victims within the borough.
Questions were raised over the cladding used to cover the tower block, which was reportedly cheaper and more flammable than another option available to the supplier.
Theresa May has ordered a public inquiry into the blaze which could take place before or instead of any inquests - a criminal investigation has also been launched as prosecutors consider whether charges could be brought over the blaze.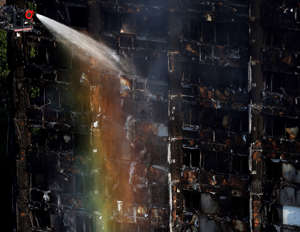 Sadiq Khan has urged the government to quickly publish an interim report on the fire, highlighting concerns about other estates that have been refurbished in a similar way to the Grenfell Tower.
The London Mayor said "there are pressing questions which demand urgent answers" as he called for a report "by the end of this summer at the latest" on Twitter.
I'm demanding a full & independent Public Inquiry into the fire at #GrenfellTower. Read my statement here: https://t.co/M2JBIArBvfpic.twitter.com/E44rW3bGN8

— Mayor of London (@MayorofLondon)

June 15, 2017