Grey Power angry over super age changes

NZ Newswire
9/03/2017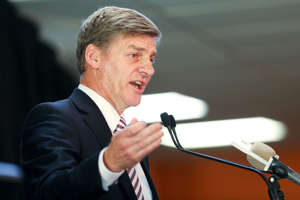 Grey Power members may not have to worry about superannuation changes affecting them, but they're none too pleased with the age of eligibility increase that will affect those who come after them.
National president Tom O'Connor likened the government's planned age increase from 65 to 67 by 2040 to kicking a beehive and warned members were read for political war.
"I don't think [members] have been this angry since an attempt to impose a surtax on superannuation 30 years ago gave rise to Grey Power," he said on Thursday.
Members were due to debate the topic at their May general meeting, but were quickly angered by the proposal, prompting plans to "protect the scheme from political interference".
Prime Minister Bill English and Finance Minister Steven Joyce announced the proposed changes on Monday, saying they would not be legislated until next year, if National wins a fourth term in government.
"Gradually increasing the retirement age from 2037 will more fairly spread the cost and benefits of NZ Super between generations, ensure the scheme remains affordable into the future and give people time to adjust," Mr English said.
But it's doubtful if National does win whether the bill will have the numbers to pass because of strong opposition from other parties.
The proposal has been criticised by Labour, the Greens and NZ First and there have been warnings of "intergenerational theft" because it's the younger generations who will face having to work for longer.
Act leader David Seymour supports the age increase but wants to see the policy implemented sooner to spread the impact across generations.