Hamilton acknowledges Maori King

NZ Newswire
29/04/2016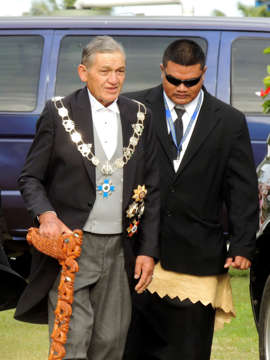 The Maori King, Te Arikinui Kiingi Tuheitia, has been awarded Freedom of the City of Hamilton.
The award was decided on by a unanimous vote by Hamilton City Council and will be conferred later in the year.
It's the highest civic honour and only 12 people can hold it at any time.
His late mother, Maori Queen Te Arikinui Dame Te Atairangikaahu, was also a Freedom of the City holder.
Kiingi Tuheitia is celebrating 10 years as Maori King at the week-long koroneihana celebrations at Turangawaewae in August.
Mayor Julie Hardaker says awarding Kiingi Tuheitia the honour is a way to acknowledge his contribution to the community at a time when he is soon to celebrate an important milestone in his role as king.
"Te Arikinui Kiingi Tuheitia has given 10 years of service to the people of Hamilton and continues to ensure the best for our community. He has led or been involved in numerous projects and initiatives that have helped Hamilton become the best city it can be," says Ms Hardaker.