Hamilton Zoo welcomes seventh rhino calf

NZ Newswire
5/07/2016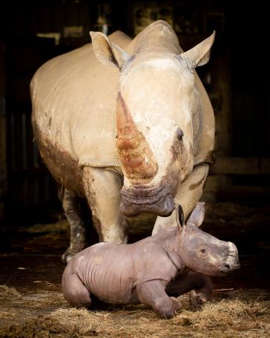 Hamilton Zoo has confirmed the birth of its seventh southern white rhinoceros calf.
The 63-kilogram male arrived in late June healthy and keen to feed following its mother Kito's 16-month pregnancy, the zoo said on Wednesday.
"Depending on weather and his continued growth, school holiday visitors will hopefully have the chance to see him in the exhibit with his mother for short periods of time each day," said ungulate team leader Aaron Gilmore.
The zoo now has six resident rhinos and successfully bred seven. Four have been sent to Auckland and Canberra zoos while three, including the remaining unnamed calf, are still in Hamilton.
"This calf is a very important part of the Australasian breeding programme, and will aid long-term conservation efforts at Hamilton Zoo and help provide a future for the species as a whole," Mr Gilmore said.
The white rhino is the least endangered living rhino species, with up to 21,000 living in the African wild.
It was thought to be extinct in the late 19th century, but in 1895 a small population of less than 100 individuals was discovered in Kwazulu-Natal, South Africa.
The name white rhino comes from the Dutch word "weit" or wide, which describes its mouth.