Hanson says Kiwis support her

NZ Newswire
1/07/2016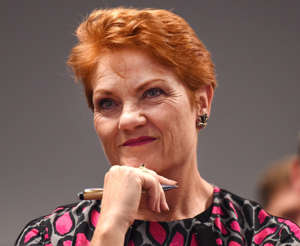 © AAP/Dan Peled Pauline Hanson Pauline Hanson says she's been getting positive comments from New Zealanders living in Australia who can't vote for her.
The One Nation leader told TV3's Story programme the Australian election campaign had been long and many people were "over politics".
The closeness of the vote on Saturday suggested voters weren't content with the leaders of the major parties.
"A lot of New Zealanders have come up to me and say `we support you, we are just sorry we can't vote for you'."
Ms Hanson thinks the rules for New Zealanders gaining citizenship in Australia are unfair.
Since 2013 her party had a policy that New Zealanders could move to Australia if they have lived in New Zealand for 10 years.
They could apply for citizenship after living in Australia for five years.
She said it was unfair that people from other countries could apply for Australian citizenship before New Zealanders could.
Businessman Michael Horton has taken out an advert to highlight the struggles Kiwis have to get Australian citizenship.
Ms Hanson was first elected to federal parliament in 1996 and was defeated in 1998, but is now on the brink of a political comeback with a Queensland Senate seat.
"I'm very confident and that's the feedback I'm getting everywhere I go," she told AAP.
She said her top priorities as a Senator would be to rein in government debt, call for a royal commission into the banking sector and push for an inquiry into Islam.