Hareb misses return to surfing elite

NZ Newswire
7/11/2016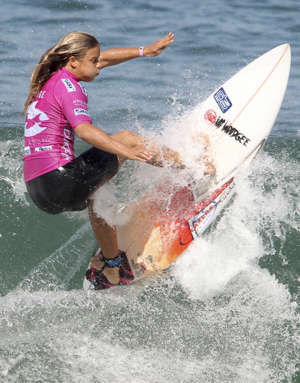 Leading New Zealand surfer Paige Hareb has failed in her bid to return to the women's World Surf League.
Competing throughout 2015 in the second-tier women's qualifying series, Hareb had a chance to win promotion heading into the final round in Australia.
The 26-year-old needed a semi-final placing at the Sydney International Women's Pro but bowed out in the third round to drop to 14th in the WQS standings.
She needed to finish six places higher to return to the elite tour, where she plied her trade for six years before being relegated in 2014.
Hareb's best result was third at an event in Spain in September but she lacked consistency.
"Result-wise has been a bit of a roller coaster but pretty disappointed, too many basic mistakes on my behalf but have learnt a lot," Hareb wrote on her social media pages.
Compatriot Ella Williams was 29th in the WQS.
The leading Kiwi in the men's qualifying equivalent is Billy Stairmand, ranked 42nd with three rounds remaining.