Hareb second at major surfing event

NZ Newswire
26/02/2017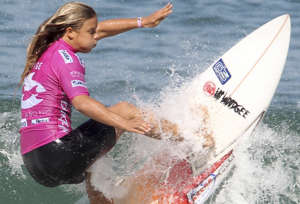 © REUTERS/Sergio Moraes Hareb of New Zeland New Zealand surfer Paige Hareb has continued a promising start to the year-long qualifying series for the world elite Championship Tour.
Hareb was runner-up at the Anditi Women's Pro event in Newcastle, Australia, beaten in a tight final by French surfer Johane Defay.
It followed a third placing at an event in Queensland in January, leaving Hareb third overall in the standings.
The 26-year-old from Taranaki enjoyed six years competing on the elite tour before being relegated in 2014.
She has been solid in two seasons of qualifying competition but failed to return to the top flight which comprises just 14 full-time surfers.
Hareb was in sharp form in strong company this week, with several world tour competitors in the field, including world No.5 Defay.
Hareb tallied 13.63 points out of 20 for her two best-scoring waves in choppy conditions for the final at Merewether Beach. Her French rival managed 16.73.
Earlier on Sunday, Hareb beat top seed Taitiana Weston-Webb of Hawaii 14.17 to 11.07 in the quarter-finals.
She disposed of leading American Sage Erickson 13.60 to 11.50 soon afterwards.