Hawke's Bay quake to be remembered

NZ Newswire
30/01/2017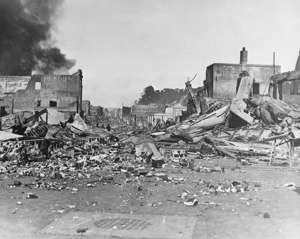 © Spark An earthquake series which rocked Napier, New Zealand, laid the city in waste and caused the deaths of 220 persons and injury to more than 1,500, Feb. 3, 1931. Emerson Street, one of the principal districts, along which every structure was destroyed. Gov The bells of Hastings clock tower will on Friday mark the exact moment 86 years ago that a 7.8 magnitude earthquake struck, killing 256 people across Hawke's Bay.
It remains New Zealand's deadliest earthquake, striking at 10.47am on Tuesday, February 3, 1931.
As part of the rebuild, Hastings reconstructed its town clock; the site of the annual memorial.
At last year's 85th anniversary, Hastings mayor Lawrence Yule said that by all accounts rebuilding had brought the community together and gave people a sense of purpose during what was a "truly dreadful time".
The rebuilding of the clock tower allowed the familiar chimes to ring out, providing some small sense of normality.
Reports of the day described it as a "calamity" and a "nerve-shattering catastrophe", saying that in Hastings more than 100 residents were killed, more than 2500 people required urgent medical help and 200 businesses were badly affected.
"It is very difficult for us to imagine the devastation; the utter ruin that our people suffered, and each year we take time out to remember those who died; those who suffered injury, and those who rebuilt our city," said Mr Yule.
The public commemoration this Friday will start at 10.30am near the Hastings Clock Tower in the city centre, with the chimes ringing out at 10.46am.\