Hewitt second in Stockholm triathlon

NZ Newswire
3/07/2016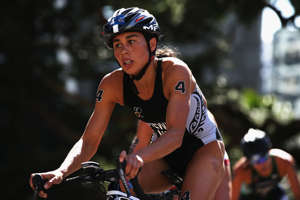 New Zealander Andrea Hewitt has claimed silver in Stockholm to move to second on the rankings in the world triathlon series.
Compatriot and Rio Olympics teammate Nicky Samuels also posted her best performance of the season by finishing eighth.
Bermuda's Flora Duffy, the series leader, won the race after again breaking away on the bike leg.
Duffy held on during the run, while Hewitt out-sprinted Britain's Helen Jenkins to finish second.
The Cantabrian's latest result continues her consistent form on the circuit, including winning bronze on the Gold Coast in April and coming home fourth in Yokohama in May.
Hewitt says the Stockholm course was a tough one with plenty of turns.
"That first lap on the bike was a bit sketchy just getting around some of the corners and the run with the cobbles - it was a difficult day," she said.
"Duffy had over a minute at one stage and on the run I don't think we put much time on her, so she was the strongest today."
In the men's race, British pair Alistair and Jonathan Brownlee issued another warning ahead of the Rio Games in August, with defending Olympic champion Alistair winning ahead of his younger brother.