Historic Whakatane building to be sold

NZ Newswire
1/05/2017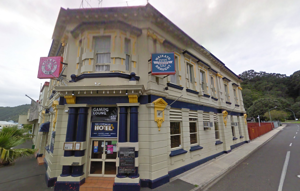 The site of a 100-year-old hotel in Whakatane will be sold in June.
One of the town's most well-known buildings, the Commercial Hotel at 39-45 The Strand, was built in 1917.
The original hotel was demolished in 1939 and rebuilt in the art deco style, but a corner section was preserved and given heritage status.
The 1939 building, which has housed a BNZ bank, public bar and storage, has become derelict and earthquake-prone. The bar closed in 2015.
The council planned to level the building in June and then the entire site, including the historic section, will be resurveyed and sold.
Heritage New Zealand has issued an authority for the demolition work and some interior fittings have been donated to the Whakatane Museum.
Council property manager Annabel Chappell said preserving the 1917 heritage site was important, as well as having one eye on a future site for development in the town.
"The 1939 building is an earthquake and fire risk and we would not want anything to occur which could see the town lose a valuable piece of history," she said.
"Although we are conscious that the 1939 hotel holds a special place in many people's memories, it has no real heritage value."
Whakatane District Council business development manager Roslyn Barlow says there have already been enquiries about the site.