Hoffman demands Warriors take next step

NZ Newswire
10/08/2016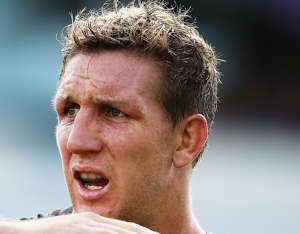 © Hannah Peters/Getty Images Ryan Hoffman Warriors skipper Ryan Hoffman is encouraged by his side's improved defensive showing against the Titans but says more work needs to be done.
The Warriors showed defensive grit to bat away several Gold Coast attacks in their 24-14 away win, missing only 16 tackles in the 80 minutes.
Hoffman was pleased by his side's solidity and wanted the Warriors to take the same mentality into Saturday's home match against the lowly Rabbitohs.
However they still needed to reduce errors across the park, with Wednesday's training focused on avoiding simple mistakes.
"There's definitely been an attitude shift and I think the weekend's game was a perfect example, especially in our attitude to defend," Hoffman told reporters.
"Limiting our errors, that was the biggest takeaway from our game.
"It's not dire straits but we need to be better."
With three of the Warriors' four remaining games at home, the Auckland-based side is in a strong position to qualify for the NRL finals.
Hoffman said the side needed a solid all-round performance to down the Rabbitohs, irrespective of home advantage.
"Just playing out of Mt Smart Stadium doesn't get you the result," he said.
"We're expecting a very resilient team to come up against us on Saturday night."