Hoffman praises Warriors' NRL solidarity

NZ Newswire
9/04/2017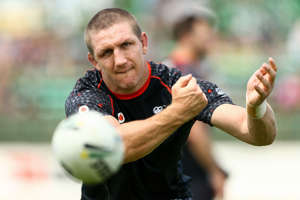 © Hagen Hopkins/Getty Images Ryan Hoffman of the Warriors. Seasoned back-rower Ryan Hoffman has praised a team performance after the Warriors beat Parramatta 22-10 in Auckland to move to just outside the NRL's top eight.
The Warriors came back from an early deficit on Sunday to score three quick tries for a 16-6 halftime lead, before repelling an Eels fightback early in the second spell.
It was the home side's second successive win and it lifted them to 10th, outside the top eight on points differential.
"The game was won from the boys in the middle," Hoffman said.
"It started with Jimmy Gavet and big Jake Lillyman and I thought the guys coming off the bench took it up another level too.
"It was just a factor of everyone contributing and everyone doing their role well."
Hoffman believes it was better performance from the Warriors than their 28-22 win over Gold Coast last week.
"I think we're improving," he said.
"We managed to get to a lead and stay there. Parramatta have got a lot of points in them and we managed to keep them to 10 points."
Next up is the sixth-placed Canberra, a side who have scored 76 points in their past two matches at home and are coming off a 42-16 away win over Gold Coast.
"It's going to be a good test of where we are and just how tough we can be," Hoffman said.
"It's certainly a very tough road trip, but we've got some confidence and we're certainly looking forward to the challenge."