Home approvals hits 12-year high

NZ Newswire
18/12/2016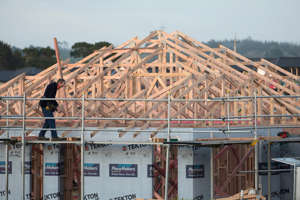 The number of homes being approved for construction has gone through the roof again.
More than 30,000 homes were given consent in the year to the end of October, Statistics New Zealand says.
That's more than twice the number approved in 2011, which was a record low, but it still has some way to go to match the building boom that began in 1974, when 40,000 were consented.
It was also 3000 shy of another peak, set in mid-2004.
The local housing market is under pressure, with a lack of supply being blamed for driving prices skyward, especially in Auckland.
"One-third of the homes consented over the past year were in Auckland. That's almost 10,000, compared with 9,000 in the previous year," Stats NZ business indicators senior manager Neil Kelly said.
There were also strong numbers in Waikato and Canterbury, although the post 2011 earthquake residential rebuild was slowly winding down, he said.