Hopes King resignation will spur debate

NZ Newswire
15/05/2017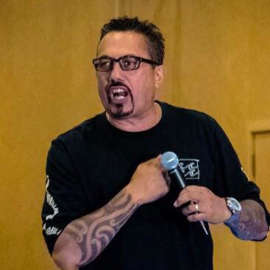 © Facebook Mike King. The government's mental health boss says he hopes Mike King's resignation from a suicide prevention panel will spur further input about a draft plan.
Comedian and mental health campaigner, Mr King resigned from the New Zealand Suicide External Prevention Advisory Panel on Monday, saying the government's recently released draft plan was "deeply flawed" and just more of the same.
"At the end of the day, we couldn't even get you to agree to a target of a 20 per cent reduction in suicide over the next 10 years," he said in an open letter.
"It would be funny if people weren't dying."
The Ministry of Health's mental health director, John Crawshaw, says he hopes the public resignation will prompt more feedback about the draft.
"The debate he has launched will help us, I hope, get as wide a number of people making submissions to our process so we can actually make the strategy - and then the action plan that follows - much more effective," he told 1News.
He said the ministry would welcome further feedback on a possible target from reducing suicide rates.
"In terms of the target, it becomes a question of 'whose target?'. Is it just a government target or a target the community as a whole has bought into?"
Mr King also described many of the statements in the draft policy as vague and "butt covering".
Dr Crawshaw said the ministry would also consider input that some of the statements were not clear or strong enough.
Labour leader Andrew Little has called on the government to listen to Mr King.
"This is a government that has targets for just about everything else, and I'm surprised they don't have a target for this," he told 1News.
Prime Minister Bill English on Monday said he wasn't surprised Mr King had struggled with the ministry's way of doing things and believed it would have been better if he had stayed.
* Readers seeking support and information about suicide prevention can contact Lifeline's 24-hour telephone counselling service on 0800 543 354.
Depression Helpline (8am to 12 midnight) - 0800 111 757
Healthline - 0800 611 116
Samaritans - 0800 726 666 (for callers from the Lower North Island, Christchurch and West Coast) or 0800 211 211 / (04) 473 9739 (for callers from all other regions)
Suicide Crisis Helpline (aimed at those in distress, or those who are concerned about the wellbeing of someone else) - 0508 828 865 (0508 TAUTOKO)
Youthline - 0800 376 633, free text 234 or email talk@youthline.co.nz
What's Up (for 5-18 year olds; 1 pm to 11 pm) - 0800 942 8787
Kidsline (aimed at children up to 14 years of age; 4pm to 6pm weekdays) 0800 54 37 54 (0800 kidsline)