Houses needed on Wellington fringes: Mayor

NZ Newswire
26/03/2017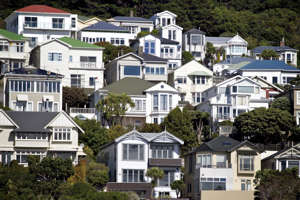 © iStock/Getty Images Two Wellington landholders owning as much as 90 per cent of vacant land on the city's fringes are in the sights of Mayor Justin Lester, who wants to push them to build thousands of new homes.
Speaking at his State of the City breakfast meeting on Monday, Mr Lester took aim at the owners of vacant land which the Wellington City Council wants for more housing.
"Right now, council officers have identified 490 hectares of undeveloped land, enough for 2750 new homes ... [which would] meet an estimated 14 years of demand for greenfield sections," he said.
"Of those 490 hectares, 90 per cent is owned by just two groups."
He did not name the two groups.
Mr Lester said council would consider financial incentives and penalties as a tool to push owners into opening up their lands because it was important to bring greater competition to the market.
"Council has already done its part - we've announced we will be building 750 new units of social and affordable housing over the next decade on the land that we own," he said.
"Now, it's time to look at ways we can encourage private sector owners to do the same."
Mr Lester also gave himself and his team a pat on the back for increasing average property rates by 3.3 per cent, compared to its original forecasted increase of 5.1 per cent.
This was made possible by saving $11 million through "efficiencies" and came in spite of $5m in emergency spending following November's Kaikoura earthquake, he said.
The council will continue a building programme this year that includes a film museum, new social housing and restoration works to the town hall.