Hunt accounts for Lewis, in ring and out

NZ Newswire
11/06/2017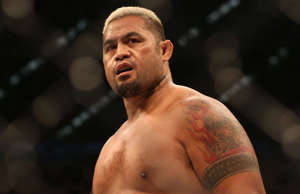 This is my hood.
That was Mark Hunt's verbal smackdown on Derrick Lewis after the Super Samoan's fourth-round UFC demolition of the American on home soil in Auckland.
In a bout between two of the hardest-hitting fighters of the heavyweight division, Hunt simply had too much staying power for the sixth-ranked Lewis, who was treading water with his back to the cage by the fourth round.
Hunt continued to pound away with fists and elbows until the fight was stopped, with a technical knockout due to exhaustion declared.
The 32-year-old Lewis, known as "The Black Beast" for his 190cm frame and 118kg bulk, said he was likely to retire after the fight.
Hunt, meanwhile, said he was likely to press on - and that he was proud to produce the goods in front of his family in Auckland.
Now based in Sydney, Hunt grew up in a Samoan family in south Auckland.
"It's pretty good feeling - I know Derrick Lewis is from the hood, but this is my hood, I run this joint," the 43-year-old Hunt said after the fight.
"Derrick's a tough guy - I respect him because he doesn't use steroids."
The knockout marks a return to the winner's circle for Hunt after last July's no-contest against drug cheat Brock Lesnar and a third-round knockout to Dutchman Alistair Overeem - who Hunt labelled a "cheating bum".
Hunt had attacked Overeem's previous doping violations before the fight, and accused him of unfairly using an IV drip due to food poisoning.
Hunt, who has three fights left on his UFC contract, felt his stamina made the difference against Lewis and that his preparation had been perfect.
Physically, he said he pulled up reasonably well after the bout - and wouldn't mind a September rematch with Overeem or with Brazilian Junior dos Santos.