I fill my own plane with petrol: Hanson

AAP
16/01/2017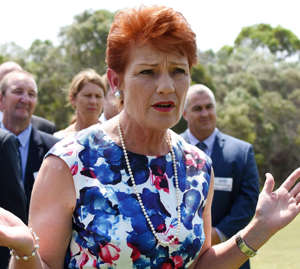 © AAP Image/Sarah Motherwell One Nation leader Pauline Hanson Senator Pauline Hanson says she fills her own plane with petrol and drives herself to the airport, parking in the budget carpark and getting a bus to the terminal.
The Queensland senator says she also always travels economy and if she needs to go to remote places she uses her own plane at One Nation's expense.
"I've still got my plane, well the party's plane, but all the trips I've done in that since the election I've filled it up myself," Senator Hanson told Sky News on Monday.
Senator Hanson says she also drives herself to the airport and parks in the "cheaper" parking.
"I get on the bus with all the other people from the carpark and they look at me and say, why aren't you in the COMCAR, Pauline."
Amid a government inquiry into the abuse of political entitlements, the senator said she tries to do everything as cheaply as she can.