Icy blast set to hit both islands

NZ Newswire
6/09/2016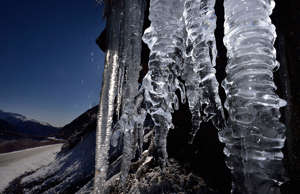 © SNPA Just when you thought it was spring...winter returns Winter is set to return, just a few days into spring.
MetService warns an icy blast is expected to hit both islands over the coming days with low level snow, severe gales and heavy swells forecast for some areas.
There's a chance of severe gales for the North Island and the bottom of the South Island early Wednesday.
The "significant" cold front is expected to spread north from Southland and reach the Cook Strait about midnight, bringing strong southerlies to the area.
The system could bring heavy snow to areas above 300m in Otago, Southland, Fiordland and North Canterbury. There's also a chance of severe gales in exposed parts of southern and eastern areas of the South Island.
Strong winds are also forecast for parts of the lower North Island on Thursday and Friday as the front continues north.
MetService warned large waves could hit some coastal areas affected by the cold front as well as north-west areas of both islands.
A high pressure system expected on Friday could spread across the country causing the southerly to ease.
However, this may cause frosts and motorists are warned to be cautious of black ice on South Island roads.