Incredibly clear lake ice makes for viral photo

USA TODAY
24/01/2017
© Courtesy of Andre Poineau Andre Poineau stands on the very clear ice of a frozen Lake Charlevoix on Jan. 15, 2017. DETROIT — It's not a Photoshop manipulation. And it's not Biblical water-walking skills.
A photograph of an East Jordan, Mich., man's stroll on the amazingly clear ice of Lake Charlevoix in mid-January has gone viral.

Andre Poineau said the photo was taken on January 15, as he ventured onto the frozen lake near his cottage at Springwater Beach in Boyne City. The 63-year-old, who owns a design-and-build architectural company, said he's seen this super-clear ice several times over the course of a lifetime near the lake — he even remembers playing lake hockey on such ice in the 1970s. But it never ceases to amaze.
"It does feel weird," he said. "You're very apprehensive. I was standing over about 6 feet of water, and even though this ice was just as solid as can be, I didn't want to go out any further."
The shovel in his hands in the photo was to test the ice, he said.
Ice is most typically cloudy because of what's going on when it's created, said Jia Wang, a research ice climatologist at the National Oceanic and Atmospheric Administration's Great Lakes Environmental Research Laboratory in Ann Arbor.
"It's the sediments in water that make ice look cloudy when it freezes," he said.
The kind of weather most often occurring when a lake or other water body freezes involves winds that stir the water up, Wang noted.
"It has to be cold and very still to get that crystal-clear ice," he said.
That matches the conditions that led to Poineau's Lake Charlevoix jaunt, Wang said.
"Prior to that, we had two, 6-degree nights with absolutely no wind," he said.
Also watch: Ice skater propels himself across Alaskan lake using chainsaw
"There's so many comments on Reddit that are saying it's Photoshopped," Poineau said. "People are taking my image and playing with it. Initially (with the commenters) it was astonishment, but then they settled into conspiracy theories."
Follow Keith Matheny on Twitter: @keithmatheny
May we suggest: 39 mind-blowing images of Iceland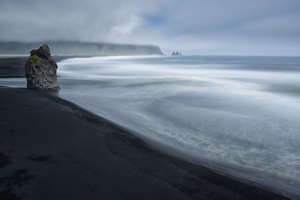 39 mind-blowing images of Iceland