Injury-hit NZ limp to fifth in Hong Kong

NZ Newswire
9/04/2017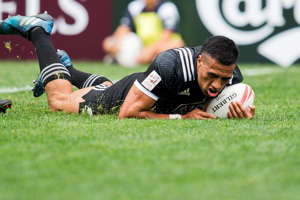 Injuries have hit the All Blacks Sevens hard as they seek to bounce back from their fifth-placed finish in Hong Kong.
New Zealand finished another disappointing tournament on a high by beating England 21-7 and Argentina 10-7 in classification games on Sunday.
Those results followed tight losses to competition heavyweights Fiji (17-14 in pool play) and South Africa (21-19 in the quarter-finals) to scupper their hopes of ending a year-long title drought.
Fiji went on to whitewash the world series-leading Blitzboks 22-0 in the final to clinch their 17th Hong Kong crown and their first tournament win since their Olympic glory last August.
New Zealand remain a distant fourth overall but are still to reach a final this season.
Adding to coach Scott Waldrom's problems is a rash of injuries which will rule three players out of this week's tournament Singapore, the eighth of 10 rounds in the world series.
Dylan Collier and Isaac Te Tamaki suffered knee injuries on the final day in Hong Kong while a shoulder problem sidelined Tim Mikkelson earlier in the week.
Four contracted players - Lewis Ormond, Tone Ng Shiu, Teddy Stanaway and Joe Webber - will join the squad in Singapore after shaking off ailments.
They proved their fitness at an international 10s tournament in Hong Kong, with Waldrom a close observer.
Waldrom described the Hong Kong week as "bittersweet", having pushed the two strongest teams close.
He also lauded their fighting qualities against Argentina, when the injuries left them with just two players on the reserves bench.
"It was good but the boys would rather be in the big show," he said.
Waldrom singled out the leadership of veteran forward DJ Forbes, who was restored as skipper after Scott Curry suffered injury in the leadup.
A revelation was Auckland winger Joe Ravouvou, who provided much needed size and pace and shapes as a quality long-term prospect.
"Joe Ravouvou has been massive. He's scored some amazing tries and has certainly brought that x-factor into our team," Waldrom said.
World sevens series standings: South Africa 145 points, Fiji 122, England 113, New Zealand 97, United States 82, Australia 79, Argentina 69.