It's going to be a tax cuts campaign

NZ Newswire
20/05/2016
Amid confusing statements from the government one thing is clear - National will campaign on tax cuts in next year's election, says NZ Newswire's political writer Peter Wilson.
The cuts will either have been announced in the 2017 budget, coming into effect in April 2018, or there will be a firm promise that they'll be in the 2018 budget.
Those are safe predictions, unless there's another international financial meltdown.
On Thursday last week, Finance Minister Bill English put them on the back burner.
Here's what he said: "We don't currently have an explicit provision for tax reduction in the fiscal forecasts.
"At this point, we've prioritised additional debt repayment over setting aside money in budget 2017 for tax cuts.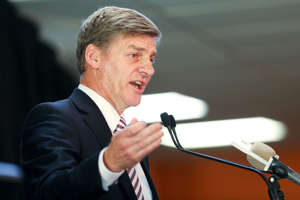 "However, we are still committed to cutting personal taxes over time, and will consider these - either in budget 2017 or after - as and when the fiscal situation improves."
By saying they could be considered in budget 2017, he meant that by then he might be in a position to announce his future plans.
On Monday this week Prime Minister John Key said tax cuts could be in the 2017 budget, but he didn't seem to think they would be.
"Decisions haven't been made and I can't give you a start date," he said at his post-cabinet press conference.
"But the obvious options are potentially in the 2017 budget, or campaign on it.
Both those options mean a tax-cutting election campaign.
If they are in the 2017 budget, coming into effect in April 2018, National will say it needs a fourth term to ensure they're not tampered with by a new government, or dismantled altogether.
If they're not in the 2017 budget, National will promise they're on the way, and when.
"Anything is possible ... we could have a mini-budget," said Key, anxious to keep all his options open.
He meant tax cuts could be announced in the campaign and put into effect through a mini-budget immediately after it, which would be unlikely, or early in 2018.
As he says, anything is possible. But the strange twist in this story is that Key thinks the government needs a fiscal breathing space of around $3 billion to make cuts worthwhile.
The previous plan, cancelled by English in his speech last Thursday, was to have $2.5b of new spending in the 2017 budget with $1.5b for tax cuts.
English has raided that pot of cash for next week's budget.
"New spending allowances for budget 2016 and budget 2017 have been rearranged," he said.
"These were previously set at $1b for budget 2016 and $2.5b for budget 2017.
"A portion of spending previously earmarked for budget 2017 has been used to reduce government debt."
"Spending pressures have also changed as a result of higher-than-expected population growth."
On the back of that, it's difficult to see how the government is going to find $3b in 2018 for tax cuts.
Labour has picked up on that.
"The Treasury says there may be a $1b surplus in 2018," said finance spokesman Grant Robertson.
"A $3b tax cut puts the government $2b back in the red. John Key's musings that surpluses will increase are nothing more than that."
Robertson has set the scene for an election campaign battle over tax cuts.
"The prime minister is being reckless and irresponsible," he said.
"When people are being forced to live in cars and garages, when older New Zealanders are living in pain because they can't get operations, we are a long way from being able to afford these kinds of election bribes."
ACT's David Seymour has a totally different take on this - he wants tax cuts now.
"Even a $3b tax cut in 2018 would barely cancel out the $2.1b cost of bracket creep since the last round of tax reforms," he said.
"A more credible approach would be to cut tax now with a promise to adjust tax brackets with inflation rates."
Bracket creep occurs when incomes increase and tax thresholds stay the same.
Gradually, more and more people move into higher tax brackets.
Seymour has worked out that taxpayers are $2.1b worse off because of it, and calls bracket creep "raising taxes by stealth".
Governments are notoriously reluctant to adjust thresholds because it has the same effect as a tax cut - and means less revenue.
It also helps control inflation, because people have less money to spend.
Key, however, has acknowledged that it needs to be done because the average wage is creeping up on the $70,000 top tax rate.
It would obviously be wrong, he said on Monday, to have all the average wage earners in the top tax bracket.
He didn't say when the thresholds might be changed.