Japan's spending spree boosts kiwi

NZ Newswire
12/07/2016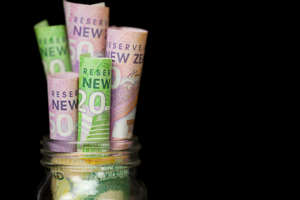 The New Zealand dollar has rallied against the greenback as a victory for Japan's ruling coalition led traders and investors to riskier assets.
The kiwi traded at US72.63 cents at 5pm on Tuesday in Wellington from US72.19c at 8am and US72.78c on Monday. The trade-weighted index fell to 77.53 from 77.68 on Monday.
The New Zealand dollar continued to gain against the yen throughout Tuesday, trading at 74.82 at 5pm from 74.16 yen at 8am and 73.67 yen on Monday.
It's now at its highest level since the outcome of the British referendum to leave the European Union became clear on June 24, which sent demand for the safe-haven currency soaring.
Shinzo Abe's government has ordered a new round of public spending work and investors are now looking to see whether the Bank of Japan will expand monetary policy when it meets late this month.
"The election win has had a big impact on the yen and that's spilled over onto the New Zealand/US dollar exchange rate," said Michael Johnston, senior trader at HiFX.
"It's more money being pumped into the system and the kiwi has rallied in response."
The kiwi declined slightly against the Australian dollar, where a business confidence survey by the National Australia Bank indicated increasing confidence about the economic outlook.
Mr Johnston said the current rate of 95.75 Australian cents, down from A96.19c on Monday remained "rarefied air" and unjustifiable in the medium term, hitting exporters and the dairy industry.
The New Zealand dollar was down to 55.57 British pence from 56.16p, slipped to 4.8560 Chinese yuan from 4.8663 and was also down against the euro at 65.54 euro cents from 65.89c.
New Zealand's two-year swap rate increased one basis point to 2.22 per cent and 10-year swaps were up 5 basis points at 2.54 per cent.