Jobs for the boys

NZ Newswire
2/09/2016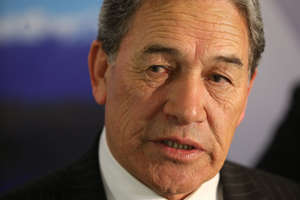 © Fiona Goodall/ Getty Images NZ First leader Winston Peters Maurice Williamson's appointment as New Zealand's next consul-general in Los Angeles provoked a familiar reaction from Winston Peters.
"It's a disgrace," said the NZ First leader.
"The government has elbowed aside professional and experienced diplomats who are trained and know what they are doing ... we have seen too much of this sort of thing under National."
He could have said under Labour as well, because governments have been doing it for decades.
And they'll continue to do it because, despite raising "jobs for the boys" protests, it has its purposes.
Some appointments, as Peters acknowledges, have been above reproach.
He mentions the "uniquely qualified" Mike Moore, a former Labour prime minister appointed ambassador to Washington for two terms by the current National government.
Moore had served a term as director-general of the World Trade Organisation, delivering vital experience in the right place at the right time during TPP negotiations.
Other unchallenged appointments to Washington were those of Moore's predecessors and successors, former prime minister Jim Bolger and former trade minister Tim Groser.
Lockwood Smith, parliament's respected Speaker, left office to become high commissioner to London and there were few quibbles.
Prior to that another former Speaker, Jonathan Hunt, had held the position and the most memorable incident of his term was an unwise inquiry as to whether he qualified for a British pension.
He was severely criticised for that because, after all, our high commissioners to London can't be said to be hard up.
Other former MPs who have been given diplomatic postings might not readily spring to mind, such as Maurice McTigue and Graham Kelly who both went to Ottawa.
McTigue served out a quiet term, but Kelly didn't.
There were calls for his resignation after the former Labour MP referred to Maori "fighting and eating each other" when he spoke in front of a Canadian Senate committee in 2005.
Kelly had to offer "an unreserved apology to all New Zealanders".
The foreign minister at the time, Phil Goff, explained Kelly's comments were intended to be light-hearted.
"He obviously failed in that regard," Goff observed.
John Carter, the long-serving Northland MP, was posted to the Cook Islands and Mark Blumsky to Nuie - hardly senior diplomatic positions but political appointments none the less.
The National government offered Labour' Shane Jones the newly-created position of roving ambassador to the Pacific.
It was seen as a blatantly transparent manoeuvre to remove a popular opposition MP from the scene, and it worked.
One reason why governments aren't likely to stop making political appointments to diplomatic posts is that they're a useful way of enticing long-serving MPs to go away.
The process is called "rejuvenation" and it's essential for parties to undergo these fraught exercises so they can present fresh faces at election time.
They're an attempt to avoid the voter perception that "this lot" doesn't deserve another term.
Some don't want to go, and that's when difficulties arise.
List MPs can be removed relatively easily but electorate MPs are a different matter.
When they're popular within their constituency a party can lose votes if there's a messy departure and strife at local electorate committee level.
Much better to have a dignified exit, with the outgoing MP endorsing the candidate who hopes to retain the seat.
There are suspicions Williamson was one such case. He announced a month ago that he would retire at the next election. It hasn't been established when he was offered the position of consul-general in Los Angeles.