John Banks loses in Supreme Court

NZ Newswire
28/06/2017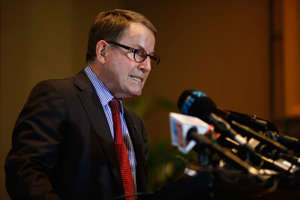 John Banks has lost in his bid to recover costs from his High Court trial in which he was accused of filing a false electoral return.
Justice Edwin Wylie convicted Mr Banks in the Auckland High Court in 2014 of filing a false return during his unsuccessful campaign for the Auckland mayoralty in 2010, by not disclosing donations from internet tycoon Kim Dotcom and SkyCity Management Ltd.
Mr Banks was acquitted on appeal in 2015 and since then has had appeals to claw back his costs to overturn his conviction rejected at both the High Court and Court of Appeal levels.
He is reported to have spent $190,000 fighting and overturning his conviction.
Mr Banks applied to the Supreme Court but, in a judgement released on Wednesday, has had his application turned down.
The three judges concluded Mr Banks had not satisfied Justice Wylie that he was not guilty in respect to the donation from SkyCity Management Ltd being falsely filed as anonymous.
"It does not appear to have been suggested that this criterion was satisfied in respect of the SkyCity particular and, in his judgement refusing the application for costs, Justice Wylie made it clear that he was not satisfied the applicant was innocent in this respect.
"There is no appearance of a miscarriage of justice. Accordingly, the application for leave to appeal is dismissed."
Mr Banks must pay costs of $2500 for his unsuccessful Supreme Court appeal.