John Key heads to China

NZ Newswire
16/04/2016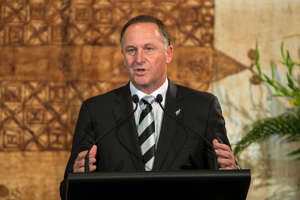 Prime Minister John Key is off to China with two cabinet colleagues and business leaders looking for opportunities.
Mr Key is accompanied by Trade Minister Todd McClay and Primary Industries Minister Nathan Guy and together they will seek to upgrade the free trade agreement New Zealand has with China.
Mr Key will meet President Xi Jinping and Premier Li Keqiang in Beijing and will also visit Xi'an and Shanghai.
This month marks eight years since New Zealand's FTA with China was signed and since then two-way trade between the two countries has more than doubled, reaching almost $19 billion.
Last month Mr Key told the Platinum Primary Producers annual conference in Wellington that the renegotiation of the agreement was a "massive opportunity".
Mr Key will also address students at Tsinghua University, meet Chinese business leaders and attend the launch of the New Zealand Film Festival in Shanghai.