Joseph Parker plans to send Anthony Joshua crashing to the canvas by one-upping Wladimir Klitschko's fight strategy

Business Insider Australia
13/03/2018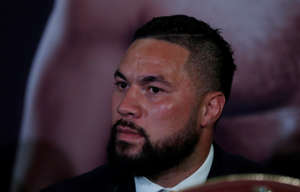 © Action Images via Reuters/Andrew Couldridge Anthony Joshua and Joseph Parker Press Conference in London. According to Joseph Parker, former heavyweight boss Wladimir Klitschko made one massive mistake when he fought Anthony Joshua last year.

Klitschko dropped Joshua with a bow-and-arrow right hand in the sixth round of their heavyweight classic in April 2017. But, regardless of the knockdown, Joshua got back to his feet, put his own pressure on, and stormed to a late stoppage victory.
Speaking to The Sun ahead of his own heavyweight unification fight against Joshua on March 31, Parker said Klitschko failed to finish the job in April.
"I was really surprised Klitschko couldn't finish Joshua off after he had knocked him down. I think with all Klitschko's experience from 69 professional fights, he could have done a bit better."
Parker warned Joshua that if he hurts the British boxer later this month, he won't make the same mistake Klitschko did.
He added that he has the "killer instinct" to send Joshua down - and ensure he stays down.
© Provided by Business Insider Inc "If I'd hurt Joshua, I would not give him a second chance," he said.
"I'd put my foot down and do my best to get him out of there because I think I have the killer instinct that I will definitely show if I get AJ into that position."
Parker and Joshua will fight at the Principality Stadium in Cardiff, Wales.