Jurors decide death for "Grim Sleeper" serial killer

Los Angeles Times
6/06/2016
© The Associated Press FILE - In this Monday Aug. 23, 2010 file photo, Lonnie Franklin Jr. appears for an arraignment on multiple charges as the alleged "Grim Sleeper" killer, in Los Angeles Superior Court. Los Angeles prosecutors plan to present evidence of five more killings against Franklin Jr., who was convicted in the "Grim Sleeper" murders. Prosecutors will begin laying out their case Thursday, May 12, 2016, for the death penalty for Franklin Jr. after his convictions in the serial killings that spanned more than two decades. (AP Pool/Nick Ut, File) A Los Angeles County jury decided Monday that the man known as the "Grim Sleeper" serial killer should be put to death, closing an important legal chapter in the grisly slayings of at least nine women and one teenage girl that terrorized South L.A. for more than two decades.
Lonnie David Franklin Jr., a 63-year-old former sanitation worker, was convicted last month of 10 murders between 1985 and 2007 but authorities believe is responsible for more. Jurors rejected defense arguments that he should spend the rest of his life in prison rather than face execution.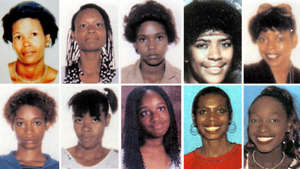 © (Los Angeles Police Department) During the penalty phase of the trial, prosecutors connected Franklin to an additional five killings. The district attorney's office decided not to charge Franklin with those crimes because he was already facing the death penalty and prosecutors did not want to further stall a trial that had already been beset by delays.
In all, investigators think Franklin may have killed as many as 25 women during the years he spent stalking one of the city's most vulnerable populations.
In her closing argument to the jury, Deputy Dist. Atty. Beth Silverman gave a blistering recounting of each victim's final moments, speaking with a palpable disdain for Franklin. The defendant, seated underneath a projector that displayed pictures of his victims' battered and bloody bodies, never looked up.
"They were so vicious, they were so calculated, and they were so demeaning," Silverman said of the killings. "The way that these women ended up, half of them naked … all of them in filthy alleys."
Defense attorney Dale Atherton countered by appealing to the jury's conscience in a plea for mercy. Executing Franklin, he said, would only "delay the healing process" for the victims' families.
"Every time they think of the approaching execution date, it will be like opening the wounds again," he said.
The killing of the women, some of whom were drug addicts or worked as prostitutes, failed to elicit the same alarm that put Los Angeles on high alert during rampages of other prolific serial killers in the Southland, such as the so-called Hillside Strangler or Richard Ramirez, who was dubbed the Nightstalker.
The deaths attributed to the Grim Sleeper in the mid-to-late-'80s coincided with a surge of homicides linked to the crack cocaine epidemic. In addition, several other serial killers were operating in the same area in those years. Michael Hughes was later convicted of killing seven women, Chester Turner of 14 women and a fetus. Both are on California's death row.
But the Grim Sleeper proved to be the most persistent. His victims' deaths would not be connected for decades, and police kept the slayings quiet despite suspicions that a serial killer was stalking black women.
That decision led to outrage and condemnation from many who attribute Franklin's longevity as a killer to police indifference.
The victims listed in the charges against Franklin, in the order in which they died, were: Debra Jackson, 29; Henrietta Wright, 35; Barbara Ware, 23; Bernita Sparks, 25; Mary Lowe, 26; Lachrica Jefferson, 22; Alicia Alexander; Princess Berthomieux; Valerie McCorvey, 35; and Janecia Peters, 25
Most of the women were shot to death, and Berthomieux was strangled.
Franklin initially earned the "Grim Sleeper" nickname because police believed he had gone dormant between 1988 and 2002. But detectives believe Franklin never really slept. Georgia Mae Thomas, 43, one of the five additional victims presented to jurors during the penalty phase of the trial, was killed in 2000.
Prosecutors said the other additional victims were Inez Warren, 28; Rolena Morris, 31; Sharon Dismuke, 21; and Ayellah Marshall, 18.
Morris vanished in 2005 and Marshall disappeared in 2006. Their bodies were never found.
Investigators found more than 1,000 photos and hundreds of hours of video in Franklin's house, showing women, many of them nude and in sexually graphic poses, some seemingly unconscious. Marshall's Hawthorne High School ID card and a photograph of Morris, along with her driver's license, were found inside a garage refrigerator stuffed with a morbid cache of items. Prosecutors called it Franklin's "trophy case."
A German woman also testified that Franklin was one of three U.S. Army men who kidnapped and raped her in Stuttgart in 1974.
james.queally@latimes.com
marisa.gerber@latimes.com
Follow @JamesQueallyLAT and @marisagerber for crime and courts news in Southern California.