`Just build some bloody houses': Little

NZ Newswire
9/08/2016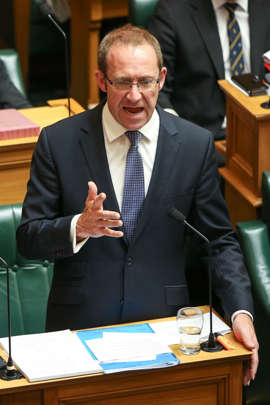 Parliament is back after a four-week recess and Labour is attacking the government over the housing shortage.
Party leader Andrew Little opened question time on Tuesday with trenchant criticism of the government's policies, saying they were failing to deliver affordable homes.
He said Prime Minister John Key should "get off his backside ... get in behind Kiwis who want to own their own homes and just build some bloody houses".
Mr Key said New Zealand was in the middle of the biggest housing boom in its history.
"We're on track to build 85,000 new houses in this term of parliament alone," he said.
"The construction industry is bigger than it's ever been, there are 40,000 more people in it than two years ago."
Earlier on Tuesday Mr Little told reporters Mr Key should sack Housing Minister Nick Smith because he had totally failed to deliver homes that were needed.
Mr Key rejected that, said he still had confidence in Dr Smith and expected he would continue in the housing portfolio through to next year's election.
"We acknowledge there is pressure in the housing market," Mr Key said.
"The government is working very hard to address that but it's not something you can change overnight."