Kaikoura access road may open to public

NZ Newswire
24/11/2016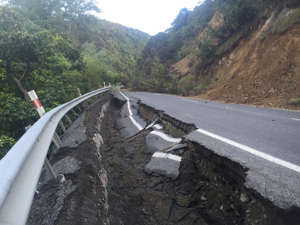 © @henrymcmullan / Twitter Kaikoura residents and tourists desperate to drive out of the isolated town may be allowed to leave along an emergency access road on Friday, authorities say. Civil Defence officials are pushing ahead with plans to allow Kaikoura residents and tourists to drive out of the isolated township on Friday afternoon.
So far only military convoys and approved vehicles bringing supplies have passed along the emergency access road, which has been Kaikoura's only land link to the rest of the country since last week's violent earthquakes.
Those participating in Friday's convoy will be able to drive south from the town on a one-way journey authorities estimate could take up to four hours.
Vehicles will not be allowed to stop on the journey and must be checked for their roadworthiness prior to departing, once a military convoy coming in the opposite direction arrives in Kaikoura.
Earlier, Canterbury Civil Defence controller Neville Reilly told media they would only proceed if weather conditions remained safe.
"What we need to do is be assured of the safety of the road," he said. Mr Reilly said there were three or four places along the route which remained hazardous but work was continuing to lessen the risk of further landslides.
If the road opens, it will be the first chance for tourists and residents to leave the town in their own vehicles in the almost two weeks since the 7.8 magnitude quake struck.
Mr Reilly said authorities were continuing to monitor 42 dams in the region created after landslips blocked rivers, one of which prompted the evacuation of residents from Goose Bay earlier in the week, but said some posed no threat if they burst.