Kaikoura emergency state extended

NZ Newswire
6/12/2016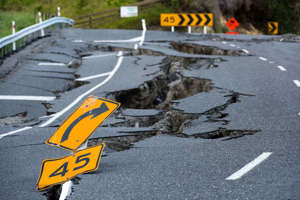 Kaikoura's state of emergency has been extended for another week so more support can be extended to the earthquake-affected town.
The local state of emergency, to allow marshalling of resources in response, was declared three weeks ago, following the magnitude-7.8 quake on November 14 which caused widespread damage and cut road access to Kaikoura.
It needs to be renewed every seven days.
"We have extended the state of local emergency to provide extra support and assistance to the community," said Canterbury Civil Defence controller Murray Sinclair.
"We have made good progress over the last few weeks with fuel restrictions lifted, increased water supply and power restored to the majority of the community."
State Highway 1 to the north and south of Kaikoura remains closed by massive slips and the only other road access, the Inland Kaikoura Road, is under controlled use.