Kaikoura road conditions like Afghanistan

NZ Newswire
23/11/2016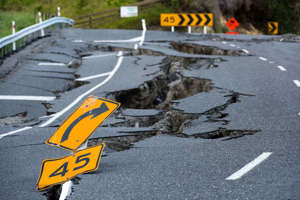 © Marty Melville / AFP Earthquake damage to State Highway 1 is seen south of Kaikoura. The road conditions in an out of Kaikoura have been likened to those of Afghanistan by a Defence Force sergeant.
The Defence Force sent 27 trucks into Kaikoura last Friday, ferrying in 44 tonnes of vital supplies including 10,000 litres of water.
"There are lots of obstacles we have to manage. The rocky and undulating terrain, and the steep drops are very similar to Afghanistan," said Staff Sergeant Dan Rosewarne, who has done two tours of Afghanistan.
The trucks have to travel in a single file at 30km/h, and a trip that would usually take them one hour is taking about four.
"Fault lines have sheared the road in half in many places. There are a lot of overhanging rocks. A number of bridges have also been damaged and cannot be used for heavy vehicles so we had to find alternate routes," Staff Sgt Rosewarne said.
Lieutenant Colonel Rob Loftus, commander of the Logistics Task Group, says the crew are highly skilled and well-trained, but for some this is the first time navigating this type of road.
The trucks carrying aid supplies for the town are at the front of the convoy, Staff Sgt Rosewarne says.
"That way, if we are cut off because of a landslide, the supplies for the affected communities would have gone ahead."