Kaikoura road 'open by Christmas'

NZ Newswire
12/12/2016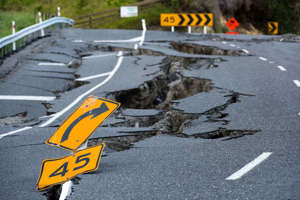 © Marty Melville / AFP Earthquake damage to State Highway 1 is seen south of Kaikoura. The main highway south of Kaikoura should be open by Christmas, nearly six weeks after the magnitude-7.8 earthquake brought massive slips across the carriageway.
"Before Christmas we expect to have this pretty much fully open, albeit with single lanes under traffic management," the New Zealand Transport Agency's Pete Connors told reporters at a roadside interview on Monday.
It could even be by the end of this week or early next week.
Contractors have been working since not long after the November 14 quake to reopen State Highway 1, which has been closed both north and south of the tourist town, and make it safe for traffic.
Stabilising slopes above the road was taking more time than removing material, Mr Connors said.
"In places it's bad but a lot of the road is in pretty good nick."
Despite rain at the weekend work on the road continued.
"It is starting to show a bit more resilience as time goes on," Mr Connors said.
SH1 would be more reliable route than the Inland Kaikoura Road and there wouldn't be the need for the convoys used when that road was the only access to Kaikoura, Mr Connors said.
NZTA wanted to get it open and for it to stay open with some certainty.