Kaley Cuoco Totally Eats It on Set in 'Big Bang Theory' Behind-the-Scenes Look (Video)

TheWrap
9/11/2018
Kaley Cuoco shared a mouthful with her fans on Thursday. In more ways than one.
"Big Bang Theory" star Cuoco gifted fans with a behind-the-scenes video posted to her Instagram page, breaking down revealing how the sausage is made during the CBS sitcom's dinner scenes.
© Provided by TheWrap She also might have revealed that she has the heartiest appetite of all the "Big Bang Theory" cast members.
 Cuoco broke it all down with a pair of behind-the-scenes videos and a lengthy explanation.

"If you ever wanted to know what happens during our 'dinner' scenes, here are two videos that show the before and after," Cuoco wrote.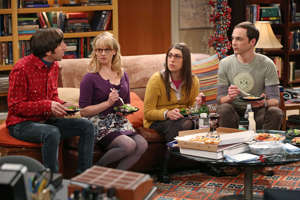 © Michael Yarish / AP Images "I always forgo lunch if I know we are shooting an eating scene like this one lol when you watch TONIGHT's all new @bigbangtheory_cbs episode, you will know I was quite satisfied," the actress continued. Notice our crew cleaning up the props and throwing things away. The cast is moving on with their day. The scene is done. I'm wrapped. Time to go home."
 Cuoco added, "(FYI that food had been eaten, touched and worked with all day. We save all food and give away all uneaten leftovers at the end of shoot days)."

Download the Microsoft News app for your Android or iPhone device and stay up-to date on the news you care about most.
The first video depicted Cuoco gathering with co-stars Johnny Galecki, Melissa Rauch and Mayim Bialik at the table, a spread of food before them. While her colleagues' plates are still untouched, Cuoco is already hard at work putting it away, enjoying a good mouthful.
The second video depicts the "after" scenario, with Cuoco alone at the table, still chowing down with her castmates nowhere in sight as a crew member begins clean-up duty.
 Hey, a person has to eat. And sometimes eat, and eat.
Watch Cuoco's behind-the-scenes glimpse below.
Pictures: 'The Big Bang Theory's' 14 Most Memorable Guest Stars, From Stephen Hawking to Carrie Fisher