Kearney to focus on Warriors' defence

NZ Newswire
29/11/2016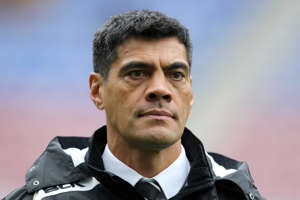 New Warriors coach Stephen Kearney is teaming up with his predecessor Andrew McFadden to oversee the under-performing club's defence in 2017.
Kearney has been quick to reject any suggestion of awkwardness at the unusual coaching combination after McFadden was demoted to an assistant role after the Warriors missed the NRL play-offs for a fifth straight season.
Former Kiwis mentor Kearney is three weeks into pre-season and says the pair have gelled quickly.
He revealed he and McFadden have joined forces to address the team's shaky defence, which leaked more than 100 tries last season.
"We need to improve on every aspect of our game, particularly the defensive part of the game, and it's been a real focus for us over the last four weeks," Kearney said.
Assistants Steve McNamara and Stacey Jones will team up to steer the attack.
Captain Ryan Hoffman says it was obvious from the outset that Kearney and McFadden would combine well, given their personalities.
"They both don't have egos that will get in the way of the bigger picture. They both want to see the best for the Warriors," he said.
"They've really worked on changing our attitude. That's something all the players have bought into right from the start.
"There's been a few trends at the Warriors in recent years and they aren't good trends so that's something we have to break."
Former Warriors captain Simon Mannering joined the squad this week after missing selection for the Four Nations with a knee injury.
The Kiwis internationals won't link up with the club until after Christmas.
Kearney was pleased with the progress of fullback Roger Tuivasa-Sheck, who missed most of 2016 with a knee injury. He is running freely but is yet to resume contact work.